The iGrow Hair Growth System
Safe, convenient, and clinically-proven hair regrowth with Low-Level Light therapy (LLLT)
The iGrow® patented, hands~free, convenient, and private in~home hair growth system provides full scalp coverage, is fully portable, easy to use and requires no manual movement. iGrow® incorporates a proprietary dual light Laser and LED design. Equipped with headphones and an iPod/MP3 interface, the iGrow is a convenient and highly effective Low~Level Light Therapy LLLT system that enables to regrow hair significantly.
What is Low-Level Light Therapy (LLLT)?
Low-Level Light Therapy (LLLT) is a process by which energy from light sources (Lasers and/or specific LED) is radiated onto the skin or scalp and absorbed into the outer dermis, causing a chemical reaction that increases cellular efficiency, performance, and function.
Low-Level Light Therapy has been used for decades and is completely safe. Hundreds
of studies have been conducted with no reported side effects.
LLLT has been clinically proven for a number of applications, and is FDA cleared for:
Reducing fine lines and wrinkles

Treatment of mild to moderate acne

Reduction of pain and inflammation

Wound Healing
And of course…
REGROWING HAIR IN MEN AND WOMEN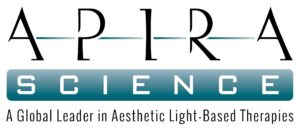 At Apira Science, our mission is to provide convenient, effective and easy-to-use low-level light therapy systems and devices for individuals suffering from a variety of hair and skin related conditions.
Recognized as one of the global leaders in aesthetic light-based therapies, Apira Science, Inc. is a pioneer in the development, manufacturing, and distribution of low-level light therapy (LLLT) systems and devices for the consumer market.
Founded in 2004, Apira entered the hair restoration industry through the introduction of its flagship clinical laser hair rejuvenation system: the Revage670®.
Apira has leveraged decades of scientific studies, along with its own research and development of low-level light therapy technology, to design and produce consumer-friendly, in-home devices for both hair growth and various skin conditions. The iGrow® Hair Growth System and iDerma family of devices have been developed around this experience and expertise. Apira holds worldwide patents on both of its flagship systems.
FEATURES AND BENEFITS –
GROWS HAIR

SAFE AND EFFECTIVE

FULLY ADJUSTABLE

AFFORDABLE

iPod/MP3 INTERFACE WITH HEADPHONES

OPTIMUM SCALP COVERAGE

SCIENCE & TECHNOLOGY

PROGRAMMED FOR EVERYONE

COMPARABLY BETTER THAN ANY OTHER SIMILAR PRODUCT

IN-HOME CONVENIENCE
Product Includes: -
iGrow

Remote Control

Universal AC Adapters

Auxiliary Cable (For use w/MP3 player or other media)

User Manual

Remote Control Cable
We've Also Been Featured on